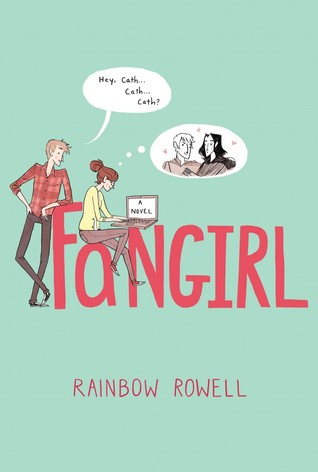 Fangirl
Author: Rainbow Rowell
Publisher: St. Martin's Press
Release Date: September 10th, 2013
Source: Audible Audiobook
Cath is a Simon Snow fan.





Okay, the whole world is a Simon Snow fan...





But for Cath, being a fan is her life—and she's really good at it. She and her twin sister, Wren, ensconced themselves in the Simon Snow series when they were just kids; it's what got them through their mother leaving.





Reading. Rereading. Hanging out in Simon Snow forums, writing Simon Snow fan fiction, dressing up like the characters for every movie premiere.





Cath's sister has mostly grown away from fandom, but Cath can't let go. She doesn't want to.





Now that they're going to college, Wren has told Cath she doesn't want to be roommates. Cath is on her own, completely outside of her comfort zone. She's got a surly roommate with a charming, always-around boyfriend, a fiction-writing professor who thinks fan fiction is the end of the civilized world, a handsome classmate who only wants to talk about words... And she can't stop worrying about her dad, who's loving and fragile and has never really been alone.





For Cath, the question is: Can she do this?





Can she make it without Wren holding her hand? Is she ready to start living her own life? Writing her own stories?





And does she even want to move on if it means leaving Simon Snow behind?

Full disclosure: I listened to this book in audio book format, which may have had some impact on how much I enjoyed it. While I liked the story, the audio book makes it feel super melancholy the whole time. If you read this, I really don't recommend listening to it.
Overall, I liked Fangirl. Cath is socially awkward, and a little relatable if you're a nerd. Her terror of getting to know people and new situations may be a bit extreme, but I like her family and the people around her. I usually don't enjoy stories that turn main characters into writers, so that was one thing, (I think it ends up being a little cliche. Thankfully, this one didn't do the whole "the story I was writing in that class was this one!" thing) Levi was really likable, and I was satisfied with the ending.
And her dad. I loved her dad. Seriously, her dad is like one of the best people in the book.
There were some things I didn't completely enjoy, however.
First, I really didn't get the constant descriptions of eyebrows and hairlines. Seriously, I just don't stare at guys eyebrows and find them attractive. I guess that made Cath unique, but it made me feel really disconnected to her at points. And I know it's a romance, but it also gets repetitive when we hear descriptions of guys over and over again. I get he has hair that sticks up. That gets redundant, especially in the audio book.
Second, I felt like the Simon Snow segments seemed a bit disjointed from the rest of the story. They didn't always feel like they were feeding into the rest of the book. It was like Simon Snow was spontaneously sprinkled along. I like when excerpts or quotes have something to do with the chapter. Maybe I was missing something, but it didn't always feel that way in this story.
I also don't get why you would reference Harry Potter in a book that's supposed to be replacing Harry Potter with Simon Snow. Side point, but it was irritating. It took away from the story.
Last, the plot. I didn't really feel like there was one large driving force in this book. There was sister stuff, and mom stuff, and class stuff, and boy stuff, but I could never tell when it was all going to tie itself up. Was the main conflict the writing assignment? The boy? Her relationship with Wren? It didn't feel like it was about being a fangirl. More like just being socially awkward. The book sort of floated along at some points. I just wanted something more concrete to carry me to the end.
Good story, but still room for improvement for me.