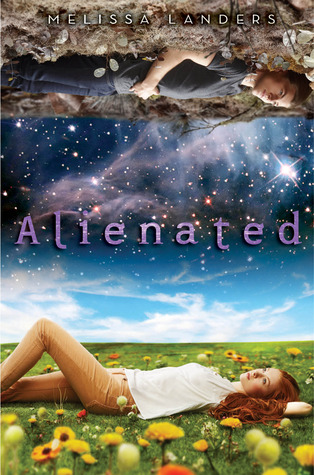 Alienated
Author: Melissa Landers
Publisher: Disney Hyperion
Release Date: February 4th, 2014
Source: Audible Audiobook
Two years ago, the aliens made contact. Now Cara Sweeney is going to be sharing a bathroom with one of them.





Handpicked to host the first-ever L'eihr exchange student, Cara thinks her future is set. Not only does she get a free ride to her dream college, she'll have inside information about the mysterious L'eihrs that every journalist would kill for. Cara's blog following is about to skyrocket.





Still, Cara isn't sure what to think when she meets Aelyx. Humans and L'eihrs have nearly identical DNA, but cold, infuriatingly brilliant Aelyx couldn't seem more alien. She's certain about one thing, though: no human boy is this good-looking.





But when Cara's classmates get swept up by anti-L'eihr paranoia, Midtown High School suddenly isn't safe anymore. Threatening notes appear in Cara's locker, and a police officer has to escort her and Aelyx to class.





Cara finds support in the last person she expected. She realizes that Aelyx isn't just her only friend; she's fallen hard for him. But Aelyx has been hiding the truth about the purpose of his exchange, and its potentially deadly consequences. Soon Cara will be in for the fight of her life—not just for herself and the boy she loves, but for the future of her planet.
Sci-fi romance is one of those genres that can quickly go from cool to cheesy.
Alienated
managed to exceed my expectations though. By starting 2 years after the initial alien arrival, we get what could be be described as an intergalactic exchange program with some romance thrown in. An independent main character with a less than perfect love interest made this one of my favorite reads of the summer.
One of the best things about
Alienated
is the characters. Cara is a strong willed teenager, valedictorian, but she's worked hard to get where she is. When she's chosen for an exchange program, she jumps in with both feet and fights to make the most of it. I love Cara because she doesn't back down. She stands by Aelyx even before feelings develop, and everyone is against her. It's more than just a career opportunity, it's fighting for something she believes in.
I also like Aelyx because he isn't perfect. While he's attractive, a large portion of the local population
hates
him. Cara is protecting him in many ways, trying to make him comfortable. Meanwhile, he only has the interests of his own planet in mind. I think this book did a great job of balancing Cara and Aelyx. Neither is completely put together or flawless. They both mess up, but they build a relationship together as time goes. It's a slow process, and much more satisfying than fast paced romance novels I've read before.
The plot itself is also interesting. The humans really are screwing things up, and the dystopia twist is fun. But the L'eihrs are also hiding things. I like that the L'eihrs are human in many ways and relatable, but there planet is still unique in it's own ways. There's a sense of culture and identity developed by the author.
It's hard to comment too much on the end of the story, because...spoilers. But I will say, I am looking forward to the sequel. As much as I hate when sequels separate the two primary love interests, I do want to see how it all works out in the end.