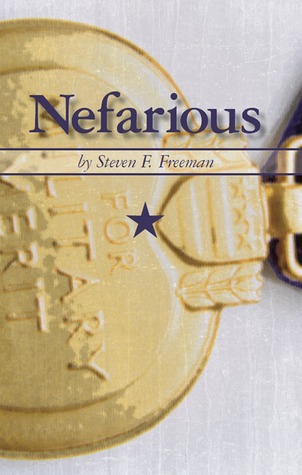 Nefarious
Author: Steven F. Freeman
Publisher: Createspace
Pages: 326
Release Date: September 3rd, 2013
Source: Received from the author in exchange for
an honest review
When Army Communications Captain Alton Blackwell takes a hit to the leg while on active duty in Afghanistan, his self-confidence and leg are equally shattered in the explosion. Assigned to a desk job while recovering, Blackwell nonetheless manages to prove his resourcefulness as he matches wits with Al-Qaeda operatives in the dangerous regions of Kabul. Unable to fully heal, he resigns himself to the abrupt end of his military career as well as any hope to win the affections of the beautiful and intelligent Lieutenant Mallory Wilson.





Upon returning state-side, the quiet civilian life is quickly left far behind when Blackwell's colleague Zach Lambert calls him from a weekend camping trip in the throes of a devastating illness with forbidding implications.





In a story out of today's headlines, Blackwell and now-FBI Agent Wilson explore the possible diversion of a biotech's project to develop an improved vaccine, scouring leads at the CDC and biotec company, putting their Army and professional skills to the test, and narrowly escaping agents with a murderous agenda at every turn. The closer they come to the truth, the quicker the bodies pile up, along with the suspects. To get to the bottom of the sinister scheme, can Blackwell still use wits when his body has failed him? And will he survive long enough to tell his colleague of the feelings for her he has long kept secret?
So, first note: I'm not much of a war story reader. While I enjoy them from time to time, my lack of knowledge and experience with the military, government agencies and that general area of life makes it a little hard to relate to. I also feel somewhat dumb when all the jargon goes over my head. <i>Nefarious</i> is a book I really got into, however. While there was enough "war chatter" to set the mood, the general plot was easy to follow and clear. It reads like a thriller, or an adventure novel, rather than just a military book. The characters felt believable, and I enjoyed seeing how the separate arcs would come together.
While I was satisfied with the ending, there were a few areas I wasn't a big fan of. The opening scene felt like it took a ton of time to get back to, which made it feel a little unnecessary. It was also a bit confusing to separate the different story arcs at first. Finch and Alton were easy to separate because one was civilian and one was military, but having Duke mixed in sometimes made it hard for me to remember who he was and what significance he had. By the ending, having that additional story almost felt a little strange. Somehow, he didn't seem as important as everyone else.
While I was uncertain about Duke, I did like having the separate story lines. I'm a fan of having to "piece together" what is happening. How is this going to eventually converge with that? The pacing was done fairly well, and I didn't feel like I got too many answers too soon. I also didn't predict the ending, which is always a nice feelings.
As for the romance, at times the Alton and Mallory thing felt a little too drawn out. I didn't really see their relationship develop, and that made it difficult for me to feel there was any real 'romance' in the story. While there was plenty of action and mystery to bring them together, many of their interactions felt very professional and arms length so you don't get the tension you may in other stories. I guess I wanted to feel a spark between them. It didn't have to be like weak in the knees love since this was an action/adventure type tale, but I wanted to feel like they really had something connecting them on a personal level. Maybe it was Alton's constant second guessing of things, but it made it hard to feel they were close in any way. I think in future stories that may come together more, but in this one it felt a little limited.
Besides that, the story was really well done. The story line seemed well researched and the settings seemed believable. I'm not an expert in rabies so I can't tell you how plausible all that is, but as a reader I could buy into the plot. Overall, this was a great page turner that was easy to read, even if war novels aren't your favorite.