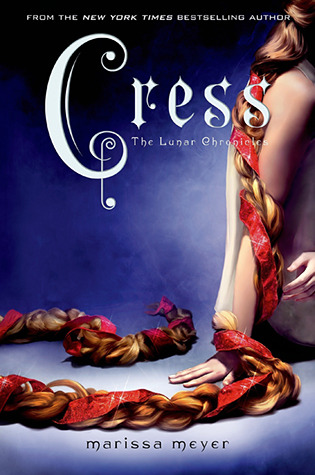 Cress
Author: Marissa Meyer
Publisher: Feiwel & Friends
Pages: 550
Release Date: February 4th, 2014
Source: Audio book from Audible, Purchased
In this third book in the Lunar Chronicles, Cinder and Captain Thorne are fugitives on the run, now with Scarlet and Wolf in tow. Together, they're plotting to overthrow Queen Levana and her army.





Their best hope lies with Cress, a girl imprisoned on a satellite since childhood who's only ever had her netscreens as company. All that screen time has made Cress an excellent hacker. Unfortunately, she's just received orders from Levana to track down Cinder and her handsome accomplice.





When a daring rescue of Cress goes awry, the group is separated. Cress finally has her freedom, but it comes at a high price. Meanwhile, Queen Levana will let nothing prevent her marriage to Emperor Kai. Cress, Scarlet, and Cinder may not have signed up to save the world, but they may be the only hope the world has.
While I've really enjoyed the other two books in this series so far, Cress was the first ofThe Lunar Chronicles I picked up as an audio book. There may be a few points my opinions about it were a little influenced by the voices in the audio track, so that's just a little side disclaimer to anyone reading this. Like the rest of the series, Cress brings another familiar fairy tale to life, this time focusing on Cress, or the story of Rapunzel. Girl with long hair trapped in a tower (or I guess in this case, a satellite) by an evil woman.

Overall, I've enjoyed where the story has gone. I especially liked the lead in at the end towards the last book in this series, and the addition of the Snow White character. There were a few points in this book, however, where I had that unfortunate "heard it before" sensation I sometimes get with twisted fairy tales. Which was really a bummer, because Marissa Meyer is usually really good at avoiding that. Something about Cress herself just went a bit too mainstream (and by mainstream, I'm eluding to a certain Tangled version of this character...). Like I noted before, this could have just been the audio book interpreting it that way, but Cress was just the wide eyed, naive, sort of ditsy damsel in distress I've seen in other renditions. I guess it makes sense, you know, girl locked in a tower, no social interaction, big imagination. I guess I just wanted a little more from her as a person. The sort of super smart nerd element really felt like it had a lot more potential that wasn't really embraced. That's just me though.

I did like that the Rapunzel parts actually took a lot of elements from the original story. And the relationship between her and Thorne was actually pretty fun. I like that Thorne doesn't entirely play into the roll of being a hero or being a prince charming, and he can be sort of a jerk a lot of the time. I don't know, he just feels realistic to me. The audio was pretty well done in the audio book I listened to too. Made my long road trip go by super quick having such a fun book to listen to. Overall, good book, with plenty to lead into the next edition. Is it out yet? Waiting sucks...